This page has information about the mods I have done and will be doing to my car.

"Rammy" the RAM AIR Pontiac
---
Info:
I bought this car w/ 29,900 miles on May 6th 2003
2000 Trans Am WS6
Silver Metallic
WS 6 Performance Package / Ram Air hood / Low restriction exhaust / 275-40-17 / Power steering cooler / Tuned suspension
Leather seats w/ back-side lumbar support
Monsoon 500 watt Sound system
T - Tops
Electronic Traction Control
3:23:1 axle ratio w/ aluminum drive shaft
---
Now for the MODIFICATIONS
I wanted to keep it basically stock but that didn't last very long
May 2k3 Mods are
K&N drop in filter
MTI Clear Lid
Autometer Dual Guage Pod
Tranny Temp Guage
Air fuel Guage
3200 Stall Precision Industries "Vigelante" Torque Convertor
Spare Rims 16x7 steel ready to mount my snow tires on
JL audio Xr series front component speakers
Pioneer 8400 mp3 player
EGR cutoff mod
Removed the larger baffle from inside the hood and sealed the box to the hood w/ thick foam
June 2k3 Mods
SLP Bolt on Subframe connectors
B&M 19,000 gvw Tranny Cooler
Replaced side Trans Am badges w/ Black ones
Painted Front Cover w/ a black paint pen
Sub Thump 10 inch stealth Box
10" R-F Subwoofer
July 2k3 Mods
New firestone Fire Hawk SZ50EP 285-40-17
New 3:23:1 gears due to the dealer not refilling my rear end fluid after warranty work :(
Aug 2k3 Mods
SLP Long Tube Headers Jet Hot coated 1 3/4 primary's w/ 3 inch Y pipe into dual 3 inch HI-Flo cats
SLP Line Lock custom for the F - Body
Sept - Nov 2k3 Mods
No mods
December 2k3 Mods
GMMG chambered exhaust system
January 2k4 Mods
Comp Cam XE 224/224 .567 114 lsa
Patriot Dual Valve Springs
Texas Speed & Performance hardened pushrods
Rollmaster Double-Roller Adjustable Timing Set
Texas Speed & Performance Ported LS6 Oil Pump
Manley Titanium Retainers

February 2k4 Mods
Ls6 Intake Manifold
SLP Smooth Bellows
Removed AIR system
March 2k4 Mods
Dyno Tune @ VETTE DOCTORS !!! they did a great job and I would recommend them to everyone !!
They removed EGR trouble code, Set cooling fans to turn on earlier, Removed Torque management, Set idle.
April 2k4 Mods
V6 Rear Springs -- for a better launching car at the Drag Strip
Swapped the GMMG exhaust for a Corsa exhaust w/ premium pro tips
Black Bird Racing Stripes
May 2k4 Mods
Custom 170 thermostat
Throttle Body Bypass mod
June 2k4 Mods
4 - 17" Polished Y2K Vette Wheels
2 Kumho Supra 712 Tires for the front
July 2k4 Mods
Added o2 sims because I blew 1 of my cats out
2 Front Brembo Blank Rotors and KVR street/race pads all around
Added 2 bullet mufflers to make my car quieter and less noticable around town but still flow great
August 2k4 Mods
LakeWood 50/50 Rear Drag Shocks
2 - 15x7.5 Convo Pro Drag Wheels
September 2k4 Mods
26x10.5x15 Mickey Thompson ET Streets
October 2k4 Mods
Optima Battery RedTop
PCV Catch Can Mod
Next Mods :
Ported Throttle Body

TNT 100 hp Wet Shot

Possible Tranny Rebuild w/ 3600 Stall Convertor
---
Click here to go to the main page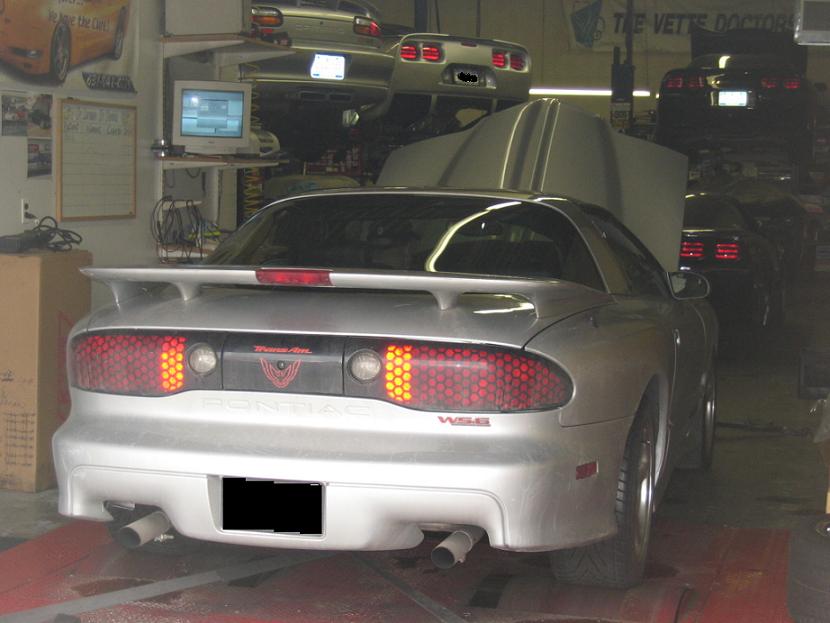 I know the car was dirty ( freak snow / rain storm on the way to the shop) but it still ran great !!!